Back To School Back In a Routine!
After a great summer it is good for students and adults to get back in a routine and a little more clean eating, a little more exercise and back on track with our supplements..
A multi is a great place to start!
Even the most balanced of diets may have nutritional shortcomings. Multi's contain therapeutic amounts of the vitamins and minerals necessary to maximize the digestion and intestinal absorption of critical nutrients.
Baseline nutritional requirements are often difficult to meet year-round. Variables—that include food grown in nutrient-depleted soil often picked prior to ripening, or seasonal deprivation of adequate sunshine for vitamin D3 production—can leave your health at risk.
Studies have proven the importance of multivitamin supplementation for the elderly, citing improved nutrient status, better cognitive function, and a reduction of falls that contribute to fragility fractures. Adolescents and young adults can also benefit from a Multi to compensate for the consumption of foods of convenience in a fast-paced lifestyle.
Including a Multi in your daily regime will lead to better overall nutrition and proven protection from diseases and infections.
Wishing you a happy harvest season!
Healthy Pumpkin Muffins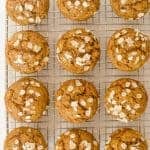 These healthy pumpkin muffins are vegan and made with whole grains, and are perfect for breakfast, snacks, or a dinner side!
Author: Melissa Griffiths
Prep Time: 10 mins
Cook Time: 25 mins
Total Time: 35 minutes
Yield: 12
Ingredients
1/3 cup melted coconut oil
1/2 cup real maple syrup
2 eggs
1 cup pumpkin puree
1/4 cup milk of choice (I used almond milk)
1 teaspoon vanilla extract
1 teaspoon baking soda
1/2 teaspoon salt
1 teaspoon cinnamon
1 3/4 cups whole wheat pastry flour or regular whole wheat flour
1/3 cup old-fashioned oats, plus more for sprinkling on top
Instructions
Preheat oven to 325 degrees. Grease a 12-cup muffin tin well and set aside.
In a medium bowl, add the melted coconut oil, pure maple syrup, egg, pumpkin puree, milk and vanilla. Whisk to combine well. In a large bowl, add the soda, salt, cinnamon, flour, and oats. Stir to combine. Add the wet ingredients to the dry ingredients and stir until just combined. Don't over mix here.
Divide the batter among the 12 muffin cups. Sprinkle with additional oats. Bake for 22-25 minutes, or until a toothpick inserted into the center comes out clean and the muffins spring back when lightly touched. Let the muffins cool for 5 minutes in the pan and then remove and allow them to cool on a wire rack. Enjoy warm or at room temperature.
Notes
If you want these to taste more like dessert, try adding in 1 cup of good chocolate chips.